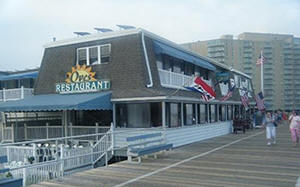 Private Parties
Our Private Party Room located on the upper deck, overlooking the boardwalk and beach, is available from Memorial Day to Labor Day
for Lunch or Dinner
Monday thru Thursdays ONLY.
***There is no Private Party Availability on Friday,
Saturday or Sundays
Oves Restaurant is
the perfect location for a:
Romantic Dinner
Birthday/Anniversary Celebration
Bridal or Baby Shower
Family Get-Together
After all what's better than
a party at the beach!
Now taking private party reservations for Summer 2023. Contact Donna Oves at doves629@aol.com.